ONE-WEEK CLOSURE: JULY 1-5, 2018

Atlanta Public Schools will be closed the week of July 1-5, 2018. Since the Fourth of July is a holiday, all 12-month employees will be required to use accumulated annual leave for July 1, 2, 3, and 5, 2019. For full-time employees, this would require the use of four days of annual leave.

An employee who does not have enough annual leave to cover July 1, 2, 3, and 5, must use personal leave to cover any annual leave shortage.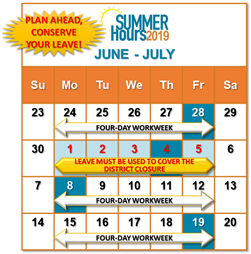 Plan ahead and conserve your leave, as employees who do not have enough annual or personal leave will see a deduction in their paychecks* for these days on July 31, 2019.

*Employee hired after March 1, 2019, will have days loaned to them.

To better understand the one-week District Closure, click the button above.
FOUR-DAY WORKWEEKS

APS will operate on a four-day workweek for three weeks during summer 2019. Employees will work 9.5 hours per day, for three days, and 9 hours on the fourth day.

June 24-27 (closed Friday, June 28)

July 9-12 (closed Monday, July 8)

July 15-18 (closed Friday, July 19)

After this period of summer hours, leave will be restricted for essential employees between July 29 and August 12 as we all prepare for Day One 2019.
DAILY WORK HOURS

During the four-day workweeks, all District offices will be open for business from 7:30 a.m. to 5:30 p.m. As long as all work hours are covered each day, Supervisors may work with employees to establish individual work schedules within the following options:

Schedule Options

Start

First 3 days

(1-hour lunch)

Fourth Day

(1-hour lunch)

1.

6:00 a.m.

4:30 p.m.

4:00 p.m.

2.

7:00 a.m.

5:30 p.m.

5:00 p.m.

3.

7:30 a.m.

6:00 p.m.

5:30 p.m.

4.

8:00 a.m.

6:30 p.m.

6:00 p.m.

5.

8:30 a.m.

7:00 p.m.

6:30 p.m.

*Option1: Operations only

Employees must adhere to one of the five work schedule options. Mix-and-matching schedules is not an option. The start times must be the same each day.