By getting involved at your child's school, you'll make a positive impact.
The PTA plays an important role in fundraising to provide building
improvements, curriculum-based programs, field trips, and social
events. By being a role model, you'll be demonstrating to your child the
importance you place on education.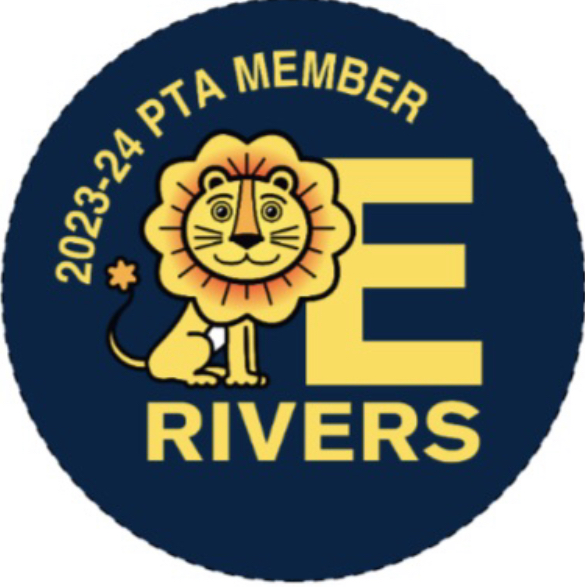 Individual PTA Membership $10
Family PTA Membership $20
Family + Sponsor a Family PTA membership $40
Teacher Membership $30 (Includes your Lion's Pride donation that entitles you to wear jeans for all of October)
Returning Families!
Join the PTA and confirm your family's information in our online directory by clicking this link. Each membership comes with one exclusive 2023-24 PTA member car magnet. Family memberships come with two magnets.This directs you to our new school directory website, Membership Toolkit. You will need to create an account as a New User with the same email address used for our directory software in the past. After your account is set up, you will have the opportunity to review and update your existing contact information, select privacy settings for the directory and purchase a PTA membership via PayPal. If you would prefer to pay by cash or check, you can get a print membership form and pay at the Welcome Desk.
New Families!
If you are new to E. Rivers or your email is not in the directory, click this link. We encourage all families to join the PTA and to add their names to our school directory. Even if you don't want your name included in the directory, joining the PTA through this link makes it MUCH easier to process PTA memberships. You can control what information is included or not included in the directory. We will NEVER sell or
distribute your information to any lists outside of E. Rivers.
Teachers!
All teachers who join get wear jeans for the whole month of October! Join here!
Questions? Please direct questions and comments regarding the Directory or PTA membership to eriversdirectory@gmail.com