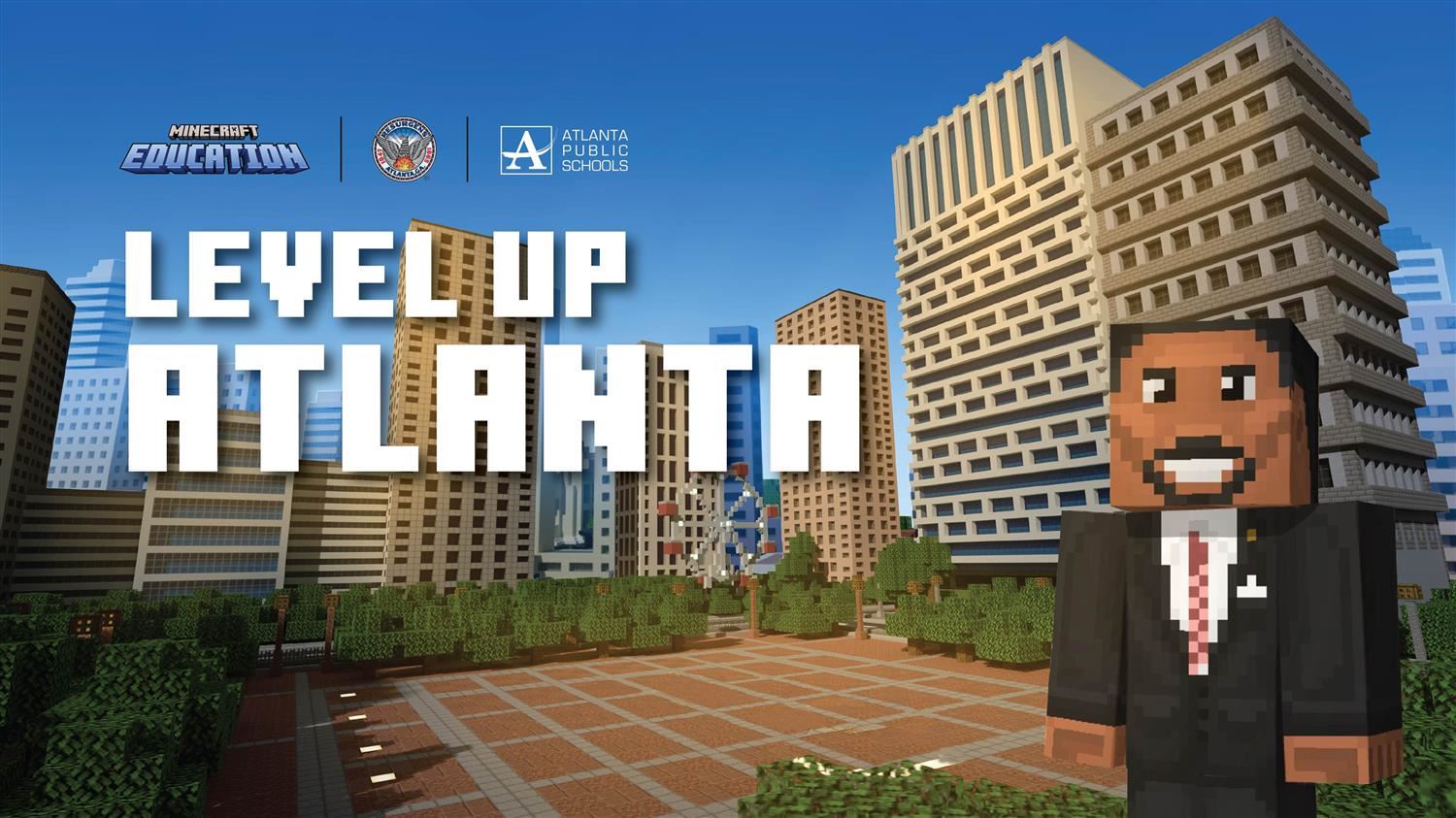 Deadline Extension - December 7th
Level Up Atlanta: Minecraft Student Build Challenge
Beginning September 5th, Atlanta Public Schools (APS) is launching a city-wide Minecraft build challenge providing students with an opportunity to navigate through a customized virtual representation of Atlanta, interacting with experts as they consider, "How can we envision a connected, equitable and sustainable future that moves Atlanta forward without leaving anyone behind? "

As teachers plan interdisciplinary tasks connected to the Georgia Standards, students will build virtual proposals in Minecraft: Education encapsulating their vision for Atlanta's future. These proposals will then be submitted for consideration by a panel of judges.
What is Minecraft Education?
Minecraft is an open-world game that promotes creativity, collaboration, and problem-solving in an immersive environment where the only limit is your imagination. Minecraft: Education differs from the regular video game version as it is aimed for use in the classroom and contains features such as classroom mode and assessment tools that enable powerful learning experiences.

Watch the following video to learn more about Minecraft: Education in the classroom.
Get Started with Minecraft Education
Minecraft: Education is available to all APS students through their school student account.

Please connect with your student's teacher to obtain their login credentials.
Installation
While Minecraft: Education is available on APS-owned devices, it can also be installed on personal devices. Please visit the Minecraft Education download page for support on how to do this.

APS Chromebooks: Minecraft Education is available in the Google Play Store app on your Chromebook.

APS iPads: Contact your ETS or School Media Specialist

APS Teacher Laptops: Submit a Nimbus ticket to have Minecraft Education Installed

APS MacBooks: Minecraft Education is available in the APS Self-Service Application
The Challenge
How can we envision a connected, equitable and sustainable future that moves Atlanta forward without leaving anyone behind?

As a valued community member of metro Atlanta, you have been challenged by The City of Atlanta to design and build a solution to help reimage, reconfigure, and revitalize notable areas in and around metro Atlanta.

In the challenge you will:

Visit and explore downtown Centennial Park, the Stitch, the Beltline, Five Points, the Battery in Cobb County, and the Buford Dam in Gwinnett County.
Speak with and learn from a variety of experts from the City of Atlanta.
Design and create solutions to address issues such as:

Mobile Transportation
Affordable Housing
Food Insecurity
Environmental Sustainability

Submit a two-minute video overview of your build
How to Participate in the Challenge
Deadline Extension - December 7th

All students and teachers have access to Minecraft: Education and are invited to participate in the challenge. Teachers will have access to an Educator's Guide, with an accompanying Student Guide, exemplars with connections to the curriculum, and professional learning sessions.
Once you have access to Minecraft: Education, download and open the Minecraft Level Up Atlanta world, located in the Teacher & Student Guides, to start your challenge journey. Here, students will find in-game characters that will assist them on their journey before they start building.
Review the rubric, located in the Teacher & Student Guides, before you start, so you understand what the judges are looking for.
Submit your project through a video recording that is no more than 2 minutes in length and clearly explains the following:
What problem are you addressing?

Your research into the problem
How you designed your solution
How your solutions solve the problem you selected
Important Dates
Challenge begins:
Challenge ends:
Finalists shared: