APS Schools make wellness tracks with spring fitness events
ATLANTA – Five APS middle schools and one high school are being spotlighted this month for their commitment to wellness.
Students from the five April Wellness Spotlight Schools, as well as the district's 11 other middle schools, ran in the ING Marathon on March 30th.
These students have exhibited a commitment to wellness as they have trained over the past few months, accruing 12 miles each.
At the ING race, they ran the final 1.1 mile to complete a half-marathon. In addition to training, the April Spotlight Schools have many other wellness-related activities that they are excited about.
The outstanding middle schools selected as Spotlight Schools for April are: Martin Luther King, Bunche, Carson, Walden, and Harper-Archer. North Atlanta, with one of the most well-rounded wellness programs in the district, was the only high school selected this month.
North Atlanta received the Georgia PTA wellness grant for 2007-08. Staff and students use a variety of methods to promote nutrition and physical fitness from school plays to charity walks.
North Atlanta student, Camille Sims, was crowned as Miss Georgia Junior United States in February 2008 with wellness as one of her focuses.
During the District Wellness Council Spring Meeting, Camille was named the first APS Student Wellness Ambassador to further promote wellness throughout the APS school system. Next school year, students from all schools will be nominated to participate in the Student Wellness Ambassador program. These students will be the lead the way for wellness in their respective schools.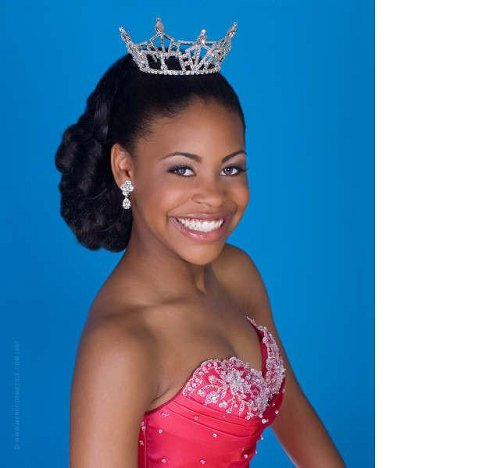 North Atlanta High's Camille Simms crowned Miss Georgia Junior United States and named First APS Student Wellness Ambassador.
North Atlanta hosted a Community Health Awareness Fair during March. The Family Career and Community Leaders of America (FCCLA) club developed a brochure on obesity prevention. The club also invited the female faculty and staff to attend a "Tea for Good Health" to sample tea and to hear Margaret Gentle, the culinary arts teacher, speak about importance of nutrition on women's health.
North Atlanta's drama class has performed an interactive nutrition education play called "Little Red Ridin' Thru the Hood" at Waters and Adamsville elementary schools.
At Martin L. King Middle School, 170 students registered to participate in the ING Run for Something Better program. These students trained daily for the event.
King Middle also has several other wellness partners. For example, the NFL-YET program offers students fun physical activities under the supervision of trained staff. The Atlanta Outward Bound program funds the Outward Bound Club that stresses team building through outdoor activities.
Teachers at King are also committed to wellness. In fact, some teachers sponsor a dance team that meets weekly at the school. In addition, faculty is trained each semester by the school nurse and/or life science teacher on topics related to health.
At Bunche, not only are the students active with race training, but the staff also sets a healthy example with their staff walking and fitness class. The school nurse keeps everyone abreast of the latest health issues during staff meetings.
Students at Bunche are also becoming more media savvy through "Media Madness." This program teaches students to reject harmful media messages that could cause negative health outcomes including negative body images, eating disorders, and sexually transmitted diseases.
At Carson Middle School, students are not only participating in the ING event to get fit, but they also can get involved with Grady Hospital Teen Health, Atlanta Youth Walk, Zap Asthma, the Boys and Girls Club, and/or after school dance and step teams sponsored by teachers.
During National Nutrition Month (March), Carson students who demonstrated knowledge and application of teen physical wellness and nutrition practices that have been taught in class received incentives. Students also published a health and nutrition newsletter noting current events and health tips that are useful to students, parents, and staff members.
Walden Middle has many ways to encourage everyone to get active. Every year, staff and students at Walden participate in the Greater Atlanta Youth Walk. Students have the option to participate in different clubs that stress a healthy lifestyle, such as Outward Bound, After School All Stars, and the Boys to Men Club.
Nutrition is also emphasized at Walden. Grady Hospital Nutrition Services works with the school cafeteria manager to conduct annual nutrition sessions with students at each grade level. Nutrition is also highly integrated into many lessons. For example, students examine the digestive and cardiovascular system in life science class and get to sample cultural foods in Spanish class.
Harper-Archer students have many spring activities to get them active. In February, students participated in the Jump Rope for Heart program to promote heart health and physical activity. Then, in March, several students participated in the ING race.
Nutrition messages are also spread throughout Harper-Archer with bulletin boards dedicated to wellness topics including the Food Guide Pyramid. During health class, students are taught about a healthy diet and lifestyle. Staff members are trained annually on health topics and the school's wellness plan.