North Atlanta High plays host to billionaire spiritual leader of 20 million Shia Muslims
ATLANTA – North Atlanta High School played host on Friday to The Aga Khan, billionaire philanthropist and spiritual head of 20 million Ismaili Shia Muslims worldwide, as he addressed the International Baccalaureate (IB) Board of Governors' annual meeting.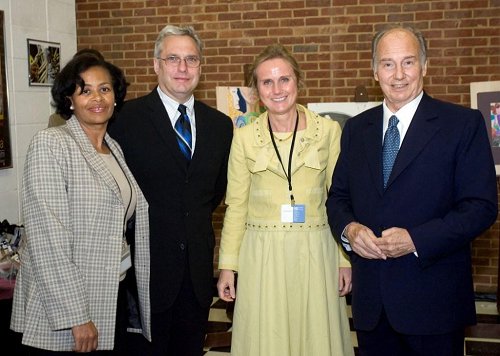 The Aga Khan (right) poses with APS Chief of Staff Sharron Pitts (left), North Atlanta High Principal Mark Mygrant and International Baccalaureate Board Chair, Dr. Monique Seefried. (Photo by Scott King)
The Aga Khan visited North Atlanta to deliver the prestigious Peterson Lecture, an annual speech to the IB governors, as he celebrated a new partnership between IB and his new Aga Khan Academies Program.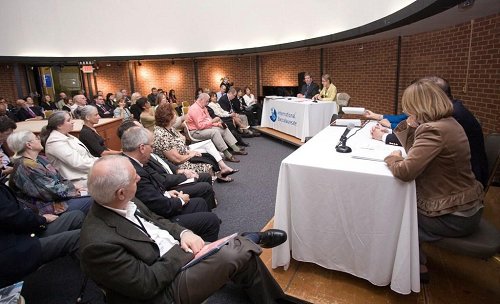 International Baccalaureate Board of Governors meets at North Atlanta High School. (Photo by Scott King)
"Together, we can help reshape the very definition of a well-educated global citizen," he told IB governors. "And we can begin that process by bridging the learning gap which lies at the heart of what some have called a 'clash of civilizations,' but which I have always felt was rather a 'clash of ignorances.'
The Aga Khan also talked about the challenges of globalization, which he said "brings with it both myriad blessings and serious risks – not the least of which is the danger that globalization will become synonymous with homogenization."
Homogenization can be a danger, he added, "because diversity and variety constitute one of the Creator, and because a deep commitment to our own particularity is part of what it means to be human. The downside of globalization is the threat it can present to cultural identities."
A second great challenge which is intensifying in the world, he said, is in some ways "the exact opposite of the globalizing impulse … a growing tendency toward fragmentation and confrontation among peoples."
"In the final analysis," he added, "the great problem of mankind in a global age will be to balance and reconcile … two impulses: the quest for distinctive identity and the search for global coherence."
North Atlanta was chosen to host the 40th anniversary IB board meeting and Peterson Lecture because it is one of seven APS schools that offer the International Baccalaureate curriculum. The others are Sutton Middle School and five elementary schools: E. Rivers, Sarah E. Smith, Warren Jackson, Garden Hills and Morris Brandon.
The IB organization, headquartered in Geneva, Switzerland, works with schools, governments and international organizations to develop challenging academic programs of international education and rigorous assessment. The program culminates in high school with an IB diploma.