'Nation's Report Card' shows APS tops U.S. districts in pace of writing improvement since 2002
ATLANTA – Writing test results released by the National Assessment of Educational Progress (NAEP) Thursday show Atlanta Public Schools continues to lead the nation in student gains, with writing improving at more than seven times the national rate.
Taken together with the NAEP reading and mathematics results, published in November, it means APS is the only urban U.S. school district to show significant improvement in all NAEP tested areas and grades. The NAEP Writing Test results are another example of real and consistent improvement for Atlanta Public Schools during the past five years.
NAEP, often referred to as the Nation's Report Card, is the only national test that measures U.S. students using a common yardstick. NAEP tests are administered biennially in math and reading at grades four and eight. The writing assessment was administered in 2002 and 2007.
Nationally, public school results in writing were up by two points over 2002, while APS scores rose by 15 points, more than seven times the U.S. average. APS was also one of only two urban districts to surpass gains made by their state. Georgia posted an improvement of six points, less than half of Atlanta's gain.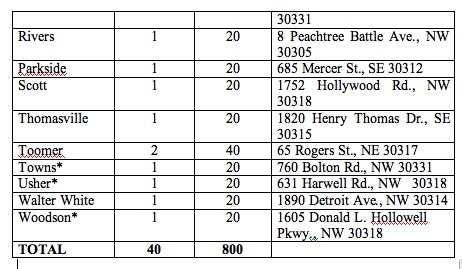 ↑Indicates the score was higher in 2007. ↓Indicates the score was lower in 2007.
↔Indicates there was no significant change in the score in 2007.
SOURCE: U.S. Department of Education, Institute of Education Sciences, National Center for Education Statistics, National Assessment of Educational Progress (NAEP), 2007 Trial Urban District Reading, Mathematics and Writing Assessments.
APS Superintendent Dr. Beverly L. Hall said she was delighted with the results. "The NAEP data reflect our eight-year-long focus on moving our students to proficiency and beyond. At a time when text messages and creative shorthand predominate the way young people communicate, it's clear our students are amassing the skills they need in writing – as well as reading and math – that are critical for college and workplace success."
Hall also noted that the across-the-board increase in all subject areas and grades tested by NAEP "is a direct result of our eight-plus years of focus on providing intensive instructional support for students. Because of the vigilance and commitment of our students, parents, teachers, administrators and partners, APS continues to move the needle on student achievement. We've not wrapped our arms around victory yet, but it's well within our reach."
Michael Casserly, Executive Director of The Council of the Great City Schools, added that "Atlanta Public Schools continues to lead the nation in student gains, this time in writing. Other big city schools across the country will be beating a path to Atlanta's door."
Atlanta Public Schools' black students posted gains of 14 scale score points (142) and performed comparably to their peers across the nation (140) in Large Central Cities (138) and in Georgia (144).
APS students eligible for the National School Lunch Program (140), an indicator of economic disadvantage, posted gains of 14 points, as well, comparing solidly with their peers in the National Public (141), Large Central Cities (138) and Georgia (141).
These improvements mimic performance trends seen on the district's 2007 CRCT results and further strengthen the growing body of evidence that the district's instructional program and accountability system are working. The data also point to the impact of district school-level performance targets in reading and math, particularly those which require schools to improve the percentage of students exceeding state standards each year.
About TUDA
Atlanta Public Schools is one of 11 urban school districts that voluntarily participates in TUDA and has its NAEP results individually reported. Other districts participating are: Austin, Boston, Charlotte, Chicago, Cleveland, District of Columbia, Houston, Los Angeles, New York and San Diego. Other school systems take the NAEP, but their scores are only included in their state's overall NAEP results.