10.06 APS Reaches All-Time Graduation Rate High of 84.0 Percent
ATLANTA PUBLIC SCHOOLS
Office of Communications and Public Engagement
130 Trinity Avenue SW | Atlanta, Georgia 30303
Seth Coleman, Director of Media
404-802-2891, office
404-345-8630, cell
seth.coleman@atlanta.k12.ga.us
Jasmine Mosley, Interim Media Relations Manager
404-802-2888, office
404-937-0473, cell
jasmine.mosley@atlanta.k12.ga.us
FOR IMMEDIATE RELEASE
October 6, 2022
APS Reaches All-Time Graduation Rate High of 84.0 Percent
The APS Class of 2022 reports the highest percentage of on-time graduates to date as the district graduation rate increases by 0.9 percentage points from last year.
Atlanta Public Schools (APS) achieved an 84.0 percent graduation rate for cohort 2022, according to the Georgia Department of Education, which officially released graduation rates for the Class of 2022 today.
This marks the highest all-time graduation rate for the district!
"We are thrilled about this outstanding achievement by scholars in the Class of 2022," said APS Superintendent Dr. Lisa Herring. "The fact that they, with the help of their teachers, counselors and school administrators, realized this historic accomplishment while spending the better part of two years teaching and learning in the virtual space is astonishing. It shows that our students, schools, and staff can achieve strong outcomes even amid adversity. This is truly a proud moment for our district."
Here are more details:
By achieving its all-time high graduation rate, APS has narrowed the gap with the state rate – 84.1% – to a difference of 0.1 percentage points. This is the first time that APS has been this close to the state graduation rate.
A total of 2,691 students graduated on-time from APS in 2022. The percentage of students who graduated in 2022 is higher than any other year since 2012, when the state adopted the cohort graduation rate as required by federal law. This is an increase of 134 graduates from 2021. The 2022 cohort included 3,203 students, 127 larger than the 2021 cohort. See Figure 1.
Figure 1: APS Graduation Rates (Graduate Counts/Cohort Size)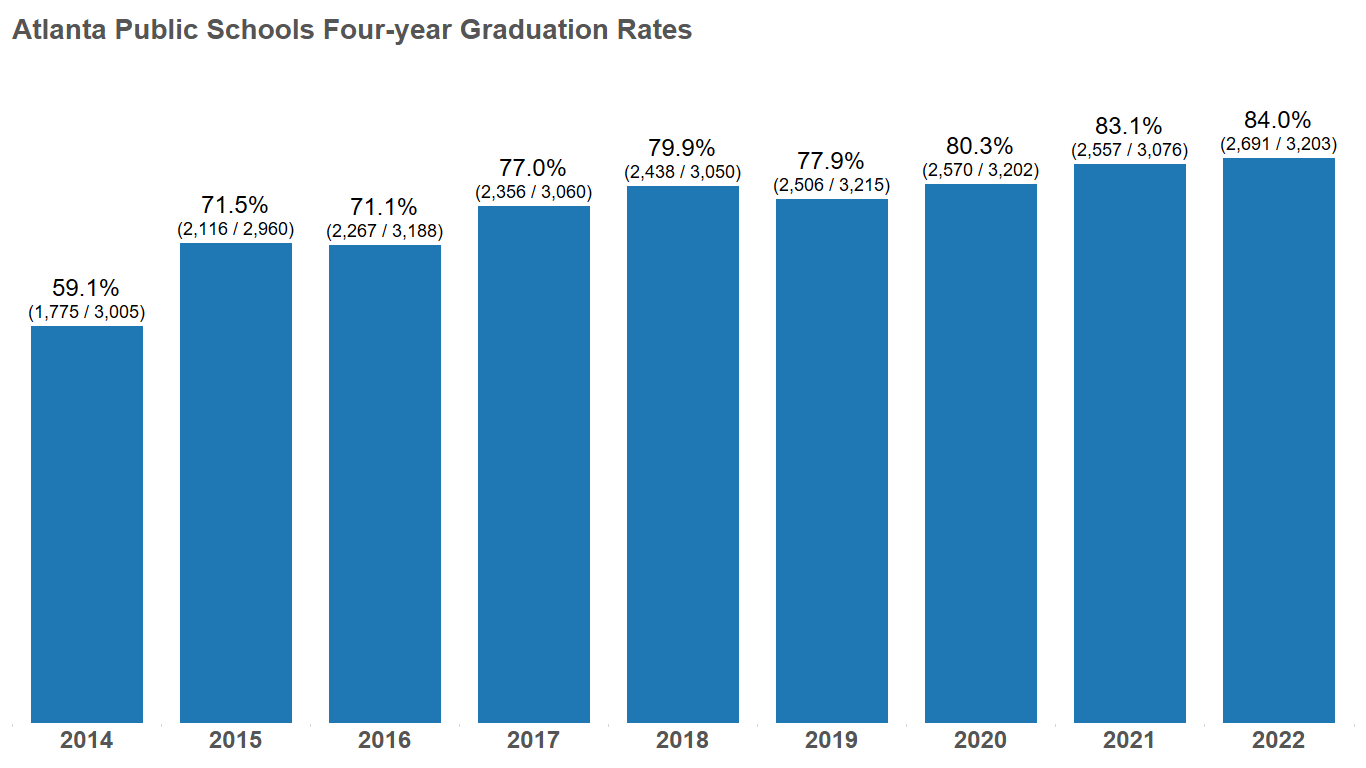 Of the 16 schools with graduating classes, seven achieved percentage-point gains compared to 2021. The largest increase was at Mays High School, which achieved a 13.0-percentage-point gain. Other schools achieving gains include KIPP Collegiate (+7.0), BEST MS/HS (+3.6), Atlanta Classical (+3.4), Therrell (+2.5), Carver Early College (+1.3), and South Atlanta (+1.2). See Figure 2.
Figure 2: 2022 APS Graduation Rates and Change from 2021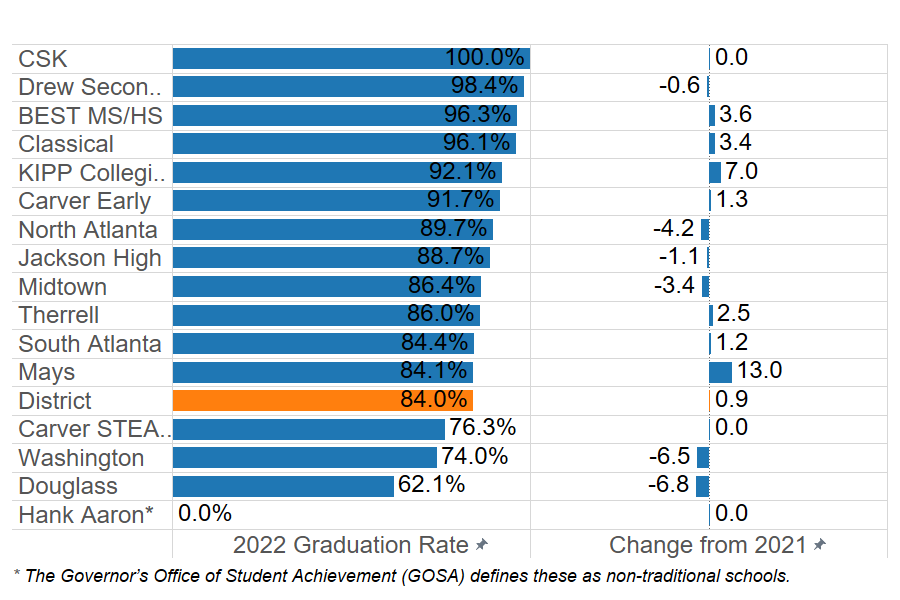 In addition, six schools had graduation rates greater than 90 percent: Coretta Scott King Young Women's Leadership Academy (100%), Drew Secondary (98.4%), BEST MS/HS (96.3%), Atlanta Classical Academy (96.1%), KIPP Collegiate (92.1%), and Carver Early College (91.7%).
Among other results from the latest graduation rates:
Graduation rates for Black students (82.2%) reached an all-time high with the 2022 cohort, while the rate for Hispanic students (80.0%) and White students (95.4%) was slightly lower than the cohort 2021 rates but higher than the pre-pandemic 2019 rates of 75.5% for Hispanic students and 93.4% for White students. See Figure 3.

Nearly 13 percentage points separated the graduation rates of Black students and White students. This is 4 percentage points lower than cohort 2021 difference.

Graduation rates for students with disabilities was 72.2%, a decrease by 1.6 percentage points over 2021, but the highest number of students with disabilities to ever graduate in one cohort – 309 students.

The 2022 graduation rate of 76.1% for English learners was slightly lower than the 2021 graduation rate of 76.8%.
Figure 3: APS Graduation Rates by Race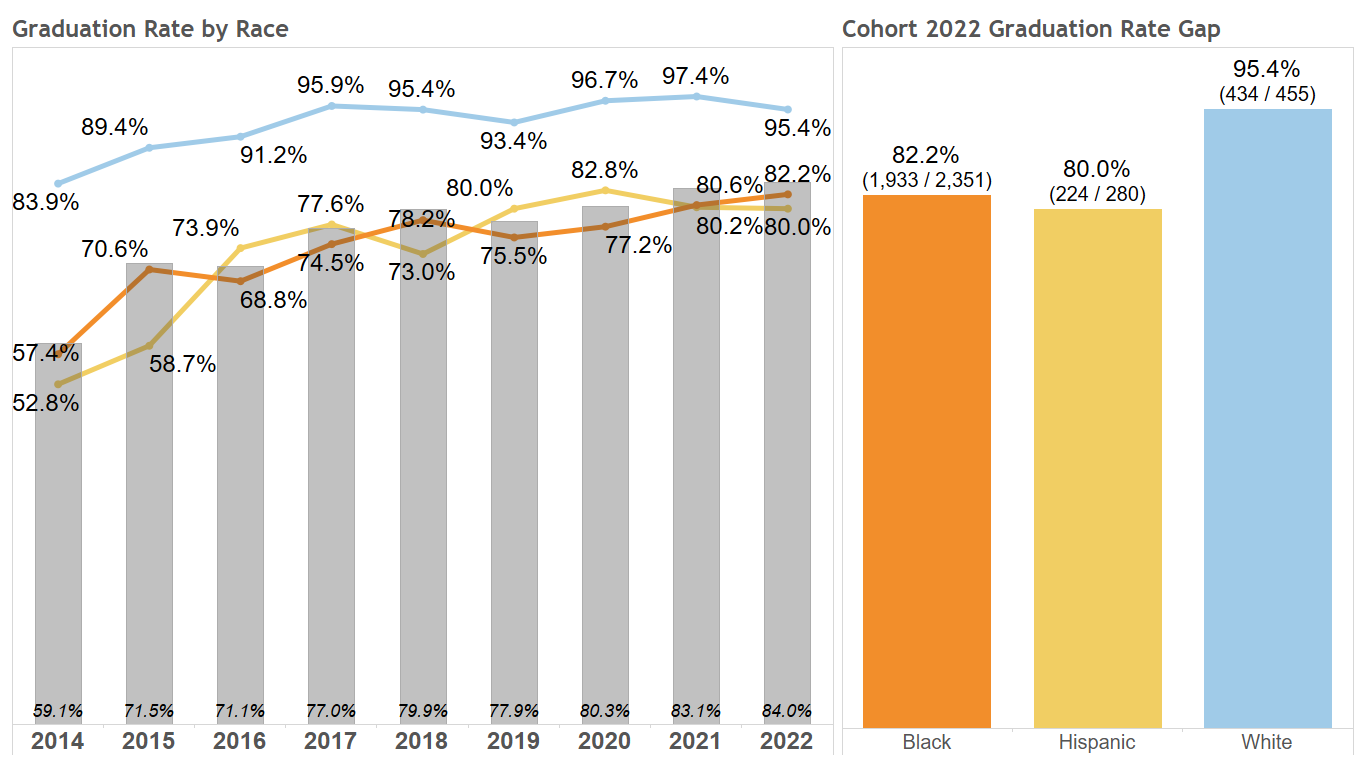 "We know that we still have a lot of work to do to close the achievement gaps between some of our students," Dr. Herring said. "We have begun the process of engaging our entire community and developing strategies to ensure that all the district's elements – culture, systems, structures, resources, and stakeholders – are barrier-free. Additionally, with the implementation of our evidence-based APS 5 – Data, Curriculum & Instruction, Whole Child & Intervention, Personalized Learning, and Signature Programming – we believe all APS schools will continue to increase the achievement levels of all of our students."
# # #
Adjusted Cohort Graduation Rate
Georgia has calculated an adjusted cohort graduation rate as required by federal law since 2012, and this calculation has not changed over this period. APS only reports the official state graduation rate. The four-year adjusted cohort graduation rate is the number of students who graduate in four years with a regular high school diploma divided by the number of students who form the adjusted cohort for the graduating class. From the beginning of ninth grade, students who are entering that grade for the first time form a cohort that is subsequently "adjusted" by adding any students who transfer into the cohort during the next four years and subtracting any students who transfer out. Students who drop-out remain in four-year adjusted cohort.
About Atlanta Public Schools
Atlanta Public Schools is one of the largest school districts in the state of Georgia, serving approximately 52,000 students across 87 schools. The District is organized into nine K-12 clusters with 58 neighborhood schools, six partner schools, 18 charter schools, two citywide single-gender academies and three alternative programs. For more information, visit www.atlantapublicschools.us, follow us on Facebook at https://www.facebook.com/AtlantaPublicSchools/ and on Twitter and Instagram @apsupdate.