11/1 Graduation Rates Maintain Gains from 2015
Contact: Kimberly Willis Green
Assistant Director of Media Relations 404.802.2836/404.319.7335 cell
kwgreen@atlantapublicschools.us
APS 2016 Graduation Rate Maintains Large Gains from Previous Year
District graduates 2,267 students – 151 more students than last year – to reach overall 71.1 percent graduation rate
ATLANTA – With a 71.1 percent graduation rate, Atlanta Public Schools' Cohort 2016 maintained the dramatic gains the district has achieved over the last two years. Additionally, the cohort reported the largest number of APS graduates in recent years with 2,267 students – an increase of 151 students – earning their high school diplomas last school year.
Among APS schools, the highest graduation rates included:
_ Carver Early College, 98.7 percent
_ KIPP Atlanta Collegiate, 92.9 percent
_ Coretta Scott King Young Women's Leadership Academy, 89.7 percent
_ North Atlanta, 88.3 percent
_ Grady, 86.4 percent
Four schools achieved significant increases in their graduation rates: B.E.S.T. Academy achieved a 12.2 percentage point gain to reach a 78.8 percent graduation rate; followed by Douglass with a 10.1 percentage point gain and a 68.8 percent graduation rate; North Atlanta, with a 6.8 percentage point gain and an 88.3 percent rate; and Maynard H. Jackson with a 5.9 percentage point gain and a 76.9 percent rate.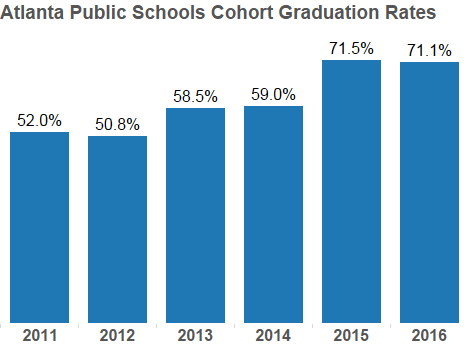 "We have a focused mission to graduate students prepared for college and career," said APS Superintendent Meria J. Carstarphen. "We are pleased that we maintained the significant boost in graduation rates that we experienced the year before. That shows that our progress in graduating more students in APS is significant, real and sustainable. But we must move the graduation rate even higher in years to come by continuing to provide supports for our high schools and also by addressing the deficits in literacy and math that many of our students bring with them from lower grades."
Last year, the district achieved a more than 12 percentage point gain in graduation rates when Cohort 2015 reached 71.5 percent. Despite the .4 percentage point decrease in its overall rate, Cohort 2016 had 2,267 four-year graduates, 151 more than Cohort 2015.
The overall APS 2016 graduation rate remains below the statewide percentage of all school systems in Georgia, which is 79.2 percent.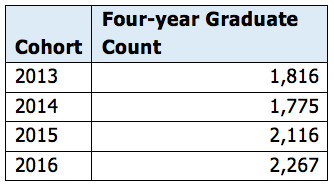 Graduation data for all of the schools is provided in the graph below: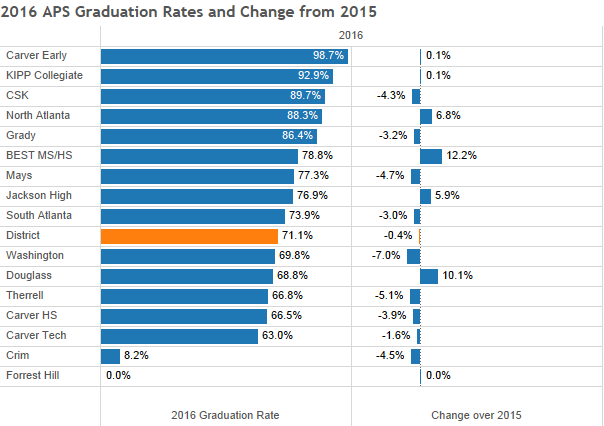 Note: State reports South Atlanta Law/Health/CAD and Carver Arts/Health as separate schools, but they are combined here as Carver HS and South Atlanta since they are currently operating as single schools.
Although the district has maintained progress in graduating more students, APS officials say the district will continue to strive for the mission to graduate all students ready for college and career.
"Increasing student supports and expanding our efforts to identify students who are at-risk of dropping out of school are critical components of our efforts," said Donyall Dickey, Chief of Schools and Academics. "To that end, the district this school year has developed tools to track student progress toward a diplomas. In addition, APS has amended district policy to allow middle school students to earn high school credits and developed data dashboards that identify students who are at-risk based on their attendance, discipline data, course credits earned and results on state assessments."
Dickey noted that each grading period, administrators, teachers and guidance counselors will audit student transcripts to ensure that all students are enrolled in the appropriate courses and that the required courses are available to the students. The district is also increasing opportunities for students to enroll in post-secondary coursework and earn associates degrees upon high school graduation through the Move on When Ready program.
Carstarphen said the district's effort to make social emotional learning or SEL a priority will make a strong difference in graduation rates in years to come.
"SEL skills are foundational to the academic success of our students. If students can persevere – set goals, overcome obstacles and develop healthy relationships – they will be more successful in work and in life," she said. "While this is not just targeted at the high school level, the skills are certainly critical for students to graduate ready for college and careers."
###
Atlanta Public Schools is one of the largest school districts in the state of Georgia, serving approximately 50,000 students across 98 learning sites. The district is organized into nine K-12 clusters with 87 schools, 17 charter schools and two citywide single-gender academies. For more information, visit
www.atlantapublicschools.us
.