5/18 Garden Hills Selected as GaDOE Family-Friendly Partnership School

Garden Hills Elementary Selected as a Georgia Department of Education Family-Friendly Partnership School
ATLANTA – Garden Hills Elementary School has been selected as one of the winners of the Georgia Department of Education (GADOE) Family-Friendly Partnership Schools. The annual Georgia Family-Friendly School Awards recognize Title I schools for their exceptional commitment to fostering welcoming environments that encourage families to become active partners in improving student achievement and success.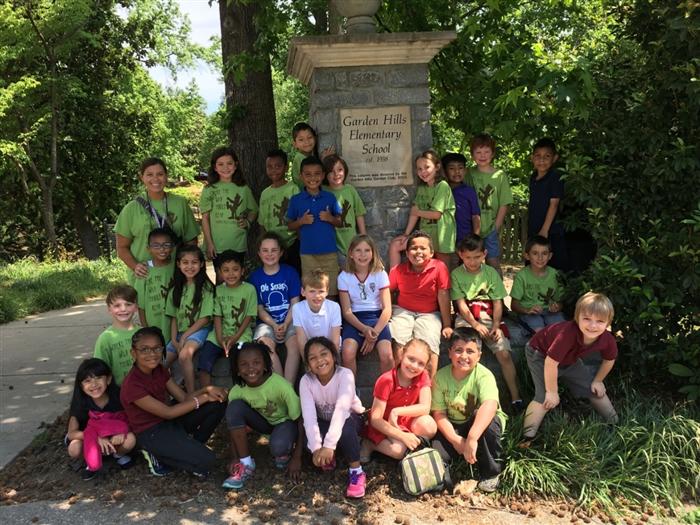 Garden Hills Elementary School first-graders are pictured with teacher Melanie Roman after a reward celebration at Fellini's Pizza for meeting their reading goals.
The four factors for assessing a school's welcoming environment are: physical environment, personal contact, communication, and school practices and policies. In addition, winning schools must address how they are implementing the six
National Parent Teacher Association Standards for Family-School Partnerships
by creating welcoming environments to increase parent engagement throughout the school.
A welcoming environment increases family engagement, which helps students earn better grades, graduate from high school, and enroll in post-secondary education. The award takes the initiative a step further by recognizing Title I schools that have gone above and beyond to create an environment where families and community members feel that they belong and where they play an important role in supporting their school's student success.
"When I read the description of this award, I knew immediately that it described Garden Hills Elementary School – the students, the families and the staff," Principal Stacey Abbott said. "The award recognizes schools that go above and beyond, but my experience has been that Garden Hills is always looking for more ways to connect with and serve the entire school community. For that reason, I am thrilled that all of our teachers, families, PTA, and community members can enjoy this honor."
The Georgia Department of Education launched the Georgia Family-Friendly Partnership School initiative in the summer of 2010 to assist Title I schools, families, and communities in working together to create welcoming environments that lead to increased student achievement. Each school honored with the Georgia Family-Friendly Partnership School Award is designated as a Family-Friendly School by the Georgia Department of Education for five years.
Garden Hills and other winners will receive a special visit from State Superintendent Richard Woods to celebrate and honor its designation, a welcome mat to display at the school's front entrance identifying its family-friendly award status, and a special professional learning opportunity provided by The Ritz-Carlton Leadership Center, designed to further enhance each school's ability to provide welcoming environments to increase parent engagement to help improve student academic achievement.
About Atlanta Public Schools
Atlanta Public Schools is one of the largest school districts in the state of Georgia, serving approximately 52,000 students across 88 schools. The district is organized into nine K-12 clusters with 68 traditional schools, 16 charter schools, two citywide single-gender academies and two alternative programs. For more information, visit
www.atlantapublicschools.us
, follow us on
and @apsupdate on
and
###