5/18 APS Teacher Jerry Kosoff named finalist for 2018 Georgia Teacher of the Year

APS Teacher Jerry Kosoff named finalist for 2018 Georgia Teacher of the Year
ATLANTA – Jerry Kosoff, 2016-17 Atlanta Public Schools (APS) Districtwide Teacher of the Year, who teaches AP Calculus and AP Statistics at
KIPP Atlanta Collegiate High School
, was named one of 10 finalists for the 2018 Georgia Teacher of the Year (TOTY) by State School Superintendent Richard Woods May 18.
Kosoff is the fourth districtwide APS teacher to be named a finalist for Georgia Teacher of the Year in the last three years along with special education teacher Elisha Gray (2013), math teacher Tamika N. Ball (2014) and gifted teacher Rita Simmons McGlothin (2015). Kosoff also is the first charter school teacher in the history of APS to be named a finalist for GA TOTY.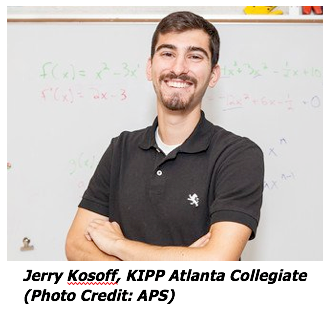 The 10 finalists were chosen from a pool of 150 applicants; all had been previously selected as their school district's Teacher of the Year. The applications were read by a panel of judges that included teachers, past Georgia Teacher of the Year winners and finalists, administrators, community leaders and others. The finalists were chosen based on the strength of their essay responses.
After graduating from the University of Pittsburgh, Kosoff moved to Atlanta with Teach for America's 2012 Corps. At the Carver School of Health Sciences and Research, he taught Math IV and Georgia Graduation Test (GGT) preparation classes. Since transitioning to KIPP Atlanta Collegiate in 2014, Kosoff has taught several math courses across the 11th and 12th grades, including his personal favorite, AP Calculus. In 2016, Kosoff was named math department chair, overseeing the implementation of rigorous Common Core aligned curricula.
Over the next several weeks, a panel of judges will conduct interviews and observe speeches given by the finalists. The winner will be announced June 12.
The 2018 Georgia Teacher of the Year will travel around the state and the nation, serving as an ambassador for the teaching profession. He or she will also be entered in the National Teacher of the Year competition.
###
About Atlanta Public Schools
Atlanta Public Schools is one of the largest school districts in the state of Georgia, serving approximately 52,000 students across 88 schools. The district is organized into nine K-12 clusters with 68 traditional schools, 16 charter schools, two citywide single-gender academies and two alternative programs. For more information, visit
www.atlantapublicschools.us
, follow us on
and @apsupdate on
and