September 2017 News Releases
9/27 APS REACHES NEW GRADUATION RATE HIGH OF 77.0 Percent
District graduates 2,356 students – 89 more than last year – for a 5.9 percentage point gain, closing the gap by 4.7 percentage points with the state graduation rate
ATLANTA – With a 77. 0 percent graduation rate, Atlanta Public Schools' Cohort of 2017 has achieved a new district high, according to official graduation data released today by the Georgia Department of Education (GaDOE). Additionally, the cohort reported the largest number of APS graduates in recent years with 2,356 students – an increase of 89 students from the year before – earning their high school diplomas last year.
The APS graduation rate represents an 18 percentage point gain in three years and the highest rate the district has received since the state aligned Georgia-wide graduation rates with the national standard in 2012. The district, which achieved a 5.9 percentage point gain in its graduation rate, also narrowed the gap with the state graduation rate by 4.7 percentage points. The state rate rose by 1.2 percentage points to 80.6 percent in 2017.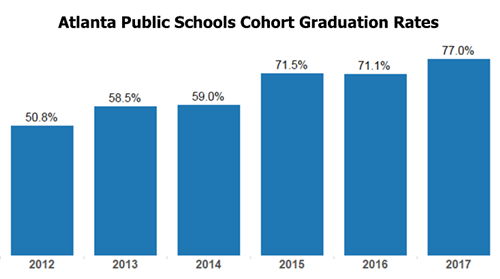 "We developed a mission with the Board and the community to graduate more and more students prepared for college and career, and we are really starting to deliver," said APS Superintendent Meria J. Carstarphen. "With three years of graduating more children, we are making progress that is significant, real and sustainable."
"The past year saw us fully implement our new charter district operating model with signature programming that directs more resources to our schools. We also provided targeted intervention to our lowest-performing schools," Carstarphen added. "As we continue to provide those supports as well as address deficiencies in core subjects such as literacy and math, I believe we will continue seeing this wonderful upward trend."
Of 17 schools' graduating cohorts, 13 saw gains and Charles R. Drew Charter School, which graduated its inaugural class in 2017, reported a 100 percent graduation rate. Other APS schools with high graduation rates include:
Carver Early College, 98.8 percent
North Atlanta High, 94.9 percent
Coretta Scott King Young Women's Leadership Academy, 94.3 percent
KIPP Atlanta Collegiate, 91.4 percent
Grady High, 88.4 percent
Schools achieving significant increases in their graduation rates include: Carver School of Technology, which achieved a 16.7 percentage point gain to reach a 79.7 percent graduation rate; followed by Therrell High School with a 12.8 percentage point gain and a 79.6 percent rate; Carver High School with a 7.4 percentage point gain and a 73.9 percent rate; and North Atlanta with a 6.6 percentage point gain and a 94.9 percent rate.
Graduation data for all of the schools is provided in the graph below: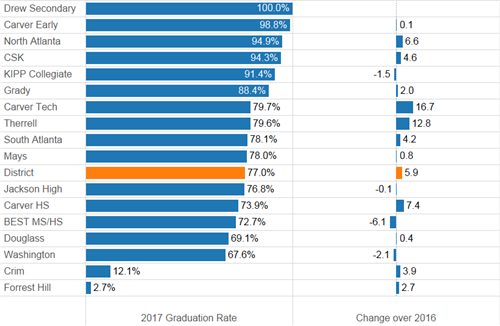 APS officials say they adopted an approach that involves a combination of measures to improve graduation factors for the senior class.
"Last year, we employed tools such as transcript audits, tracker modules and data dashboards to identify issues that might prevent students from graduating on time," said Dr. Dan Sims, Associate Superintendent for High Schools. "Our high schools provided students with ongoing recovery options based on their needs and encouraged them to take advantage of opportunities to obtain credits. They worked with each school to clearly identify all students who only needed an extended summer opportunity to graduate in 2017 and strongly encouraged them to do so."
In addition to keeping high school students on track to graduate with their peers, APS has also been working hard on attendance, school climate and social emotional learning or SEL at the high school level and across all schools in the district, Carstarphen said.
"With our efforts to improve attendance and learning environments while also providing positive behavior supports, we are making schools more conducive places for learning," she said. "When students feel safe, welcomed, respected and challenged by quality educators and programming, they are more likely to learn and stay on a path to graduate on time and be ready for college and career."
More APS graduation data is available at: https://apsinsights.org/2017/09/27/2017-graduation-results/
###
About Atlanta Public Schools
Atlanta Public Schools is one of the largest school districts in the state of Georgia, serving approximately 52,000 students across 88 schools. The district is organized into nine K-12 clusters with 67 traditional schools, 17 charter schools, two citywide single-gender academies and two alternative programs. For more information, visit www.atlantapublicschools.us, follow us on Facebook at https://www.facebook.com/AtlantaPublicSchools/