October 2018 News Releases
10.29 34 APS Schools Score Above 70 on State's Redesigned CCRPI
ATLANTA PUBLIC SCHOOLS
Office of Communications and Public Engagement
130 Trinity Avenue SW | Atlanta, Georgia 30303
Ian Smith, Executive Director
404-802-2855, office
404-603-6934, cell
ian.smith@atlanta.k12.ga.us
Seth Coleman, Media Relations Manager
404-802-2891, office
404-406-5570, cell
seth.coleman@atlanta.k12.ga.us
FOR IMMEDIATE RELEASE
ATLANTA — The Georgia Department of Education (GaDOE) released the redesigned College and Career Ready Performance Index (CCRPI) scores today showing that Atlanta Public Schools (APS) earned an overall CCRPI score of 73.4 out of 100. The overall CCRPI score for the state is 76.6.
According to the results, 34 schools achieved a CCRPI score above 70 of which 14 schools achieved an overall CCRPI score at or above 80. Five schools achieved an overall score above 90: Morningside Elementary School (97.8), Brandon Elementary School (96.5), Jackson Elementary School (96.4), Mary Lin Elementary School (93.1), and Springdale Park Elementary School (92.4).
Nine schools scored between 80 and 90: Charles R. Drew Charter School (89.8), Sarah Smith Elementary School (89.7), Inman Middle School (89.0), Atlanta Neighborhood Charter (88.6), Charles R. Drew Charter School Junior Academy/Senior Academy (86.9), Wesley International Academy (84.9), Sutton Middle School (82.8), Grady High School (81.7), and Burgess-Peterson Elementary School (80.7). For a complete list of APS' CCRPI scores by school see the appendix.
"What we're seeing in this year's CCRPI scores largely reflects the performance trends we saw in our Georgia Milestones results," APS Superintendent Dr. Meria Carstarphen said. "Specifically, we're building a strong foundation at the elementary and middle school levels, but we know more work needs to be done to ensure all of our students across all grade levels graduate ready for college and career. At the same time, it's important that we not look to any one indicator or any one number. We must look at multiple measures over time, including Georgia Milestones, graduation rates, student growth percentiles, climate star ratings, and other indicators in order to get a full picture of our students' overall academic experience."
The new CCRPI reporting system is comprised of five components: Content Mastery, Progress, Closing Gaps, Readiness, and Graduation Rate (high schools only). APS' CCRPI scores for elementary, middle, and high school levels were lower than the state's; however, the District outperformed the state in "Progress" at the elementary level and in "Closing Gaps" at both the elementary and middle school level.
In all, 27 schools scored higher than the state for their grade level, including 13 elementary schools, nine middle schools, and five high schools (see the charts below). Please note that schools that have students in multiple grade levels receive CCRPI scores for each level (elementary, middle, high school) and an overall score.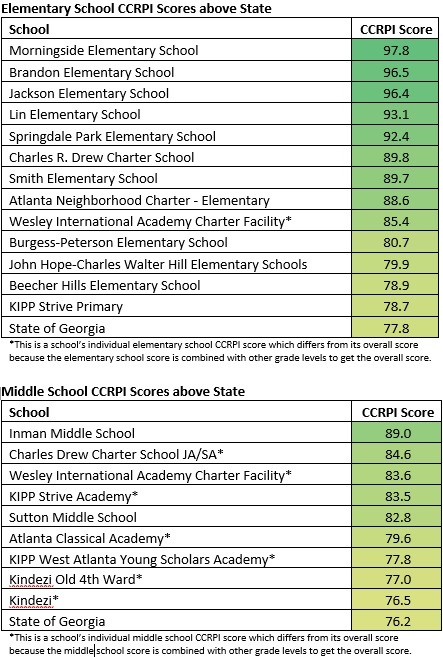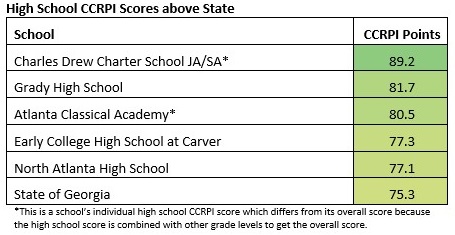 2018 District and State Grade Level CCRPI Scores with Components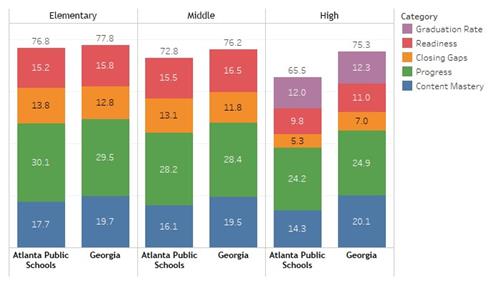 The District's elementary grade level earned an overall CCRPI score of 76.8, the middle grade level earned an overall score of 72.8 and the District's high school level earned an overall score of 65.5.
In light of the reauthorization of the Federal Every Student Succeeds Act (ESSA) in 2015, GaDOE redesigned CCRPI last year to expand the rating system's successes and address its shortcomings. Every school and district in Georgia receives a CCRPI score on a scale from 0 to 100. The CCRPI score is earned based on ­five components: Content Mastery, Progress, Closing Gaps, Readiness, and Graduation Rate (high schools only). The CCRPI score also includes subgroup performance, School Climate Star Rating, and the Financial Efficiency Star Rating.
The redesigned CCRPI is more streamlined, but due to changes GaDOE made to the CCRPI components and indicators, and the weighting of those components, a one-to-one comparison of past CCRPI scores to recently released scores cannot be made.
"This year's CCRPI scores provide a new baseline for us given the revisions GaDOE made to the rating system over the past year, but we can't compare apples-to-apples to data from previous years," Dr. Carstarphen said. "Therefore we have to look holistically at multiple data points that show us how we are preparing our students to succeed."
For more information and analysis of APS' CCRPI scores, click here. To view detailed score reports for the state and every public school district in Georgia, visit the GADOE CCRPI page.
Definitions
The new CCRPI reporting system is comprised of four components for elementary and middle schools and five components for high schools:
Content Mastery – The achievement of students in English language arts, math, science, and social studies.
Progress – A measure of growth in English Language Arts and math students have made relative to academically-similar students across Georgia and a measure of the progress English-Learners are making towards English-language proficiency.
Closing Gaps – The extent to which all students and all student subgroups are meeting annual achievement improvement targets.
Readiness – A measure of literacy, student attendance, and enrichment beyond core academic subjects in middle and elementary schools, while additionally including accelerated enrollment, pathway completion, and a demonstration of college and career readiness for high schools.
Graduation (high schools only) – Four-year and five-year adjusted cohort graduation rates.
The overall CCRPI score is reported on a 0‐100 scale. Each CCRPI indicator and component is also reported on a 0‐100 scale, with additional points possible in Content Mastery, Progress, and Closing Gaps. The maximum score for an indicator or component is 100. Components are weighted and combined according to the weights defined in the table below to determine the overall CCRPI score.

# # #
About Atlanta Public Schools
Atlanta Public Schools is one of the largest school districts in the state of Georgia, serving approximately 52,000 students across 89 schools. The district is organized into nine K-12 clusters with 61 neighborhood schools, five partner schools, 18 charter schools, two citywide single-gender academies, three alternative schools and four alternative programs.
Charts