October 2019 News Releases
10.1 APS Class of 2019 Achieves Dramatic Increase in SAT Participation
ATLANTA PUBLIC SCHOOLS
Office of Communications and Public Engagement
130 Trinity Avenue SW | Atlanta, Georgia 30303
Ian Smith, Executive Director
404-802-2855, office
404-603-6934, cell
ian.smith@atlanta.k12.ga.us
Seth Coleman, Media Relations Manager
404-802-2891, office
404-406-5570, cell
seth.coleman@atlanta.k12.ga.us
FOR IMMEDIATE RELEASE
October 1, 2019
APS Class of 2019 Achieves Dramatic Increase in SAT Participation
90 percent of 2019 graduates took the SAT — which is up 33 percentage points — as expected, scores dip
ATLANTA — According to figures released today by the College Board, 90% of Atlanta Public Schools' (APS) 2019 graduates took the SAT, nearly 900 more students than the class of 2018, up 33 percentage points from the previous year. As expected with this dramatic increase in participation, the average total SAT score for the class of 2019 decreased 53 points compared to 2018, from 997 to 944. State and national trends showed slight declines. (See Figure 1 below.)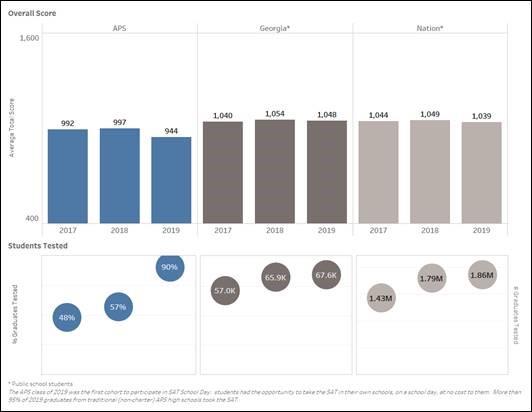 The APS Class of 2019 was the first cohort to participate in SAT School Day, an initiative sponsored by Achieve Atlanta, in which students got the opportunity to take the SAT in their own schools, on a school day at no cost to them. The Achieve Atlanta sponsorship paid for all of the tests, thus removing funding and transportation barriers for many students, which is a gateway in the college admissions process.
Four schools exceeded the average SAT score for the nation (1039) and the state of Georgia (1048): Atlanta Classical Academy (1250), Grady High School (1094), Drew Charter (1078) and North Atlanta (1056). (Figure 2)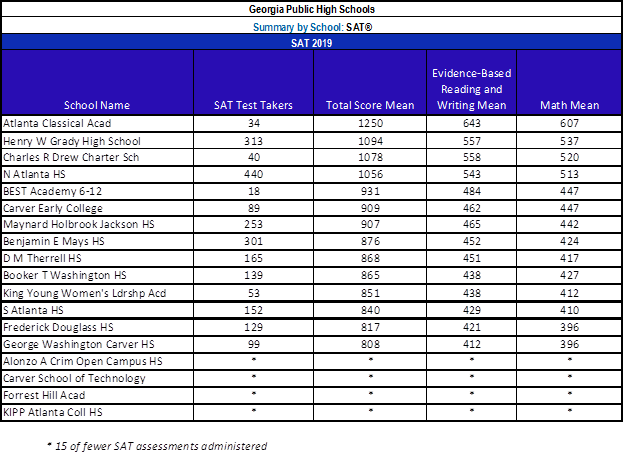 "The fact that 90% of our 2019 graduates took the SAT exam is a perfect example of equity and increased rigor for our most marginalized students, especially as it relates to college access," said APS Superintendent Dr. Meria Carstarphen. "This is also a testament to APS living the mission of college and career readiness. Our students wouldn't have had this opportunity to get through the gateway of college admission exams without the support of Achieve Atlanta and we deeply value their engagement and are grateful for their partnership."
# # #
About Atlanta Public Schools
Atlanta Public Schools is one of the largest school districts in the state of Georgia, serving approximately 52,000 students across 87 schools. The District is organized into nine K-12 clusters with 58 neighborhood schools, six partner schools, 18 charter schools, two citywide single-gender academies and three alternative programs. For more information, visit www.atlantapublicschools.us, follow us on Facebook at https://www.facebook.com/AtlantaPublicSchools/ and on Twitter and Instagram @apsupdate.