September 2019 News Releases
9.18 APS Posts 2019 Graduation Rate of 77.9 Percent
ATLANTA PUBLIC SCHOOLS
Office of Communications and Public Engagement
130 Trinity Avenue SW | Atlanta, Georgia 30303
Ian Smith, Executive Director
404-802-2855, office
404-603-6934, cell
ian.smith@atlanta.k12.ga.us
Seth Coleman, Media Relations Manager
404-802-2891, office
404-406-5570, cell
seth.coleman@atlanta.k12.ga.us
FOR IMMEDIATE RELEASE
September 18, 2019
APS Posts 2019 Graduation Rate of 77.9 Percent
District reports highest number of on-time graduates to date – 2,506 students, but graduation rate decreased by 2.0 percentage points from last year
ATLANTA — Atlanta Public Schools (APS) achieved a 77.9 percent graduation rate for the 2019 cohort, according to graduation data released today by the Georgia Department of Education. The rate represents an 18.8-percentage-point increase since 2014, although 2.0 percentage points less than the district's all-time high graduation rate of 79.9 percent in 2018.
More students – 2,506 of them – graduated on-time from APS in 2019 than any other year since 2012, when the state adopted the cohort graduation rate as required by federal law. This is an increase of 68 students from 2018. The 2019 cohort included 3,215 students, an increase of 165 compared to 2018 and the largest cohort since 2014. See Figure 1.
Figure 1: APS Graduation Rates (Graduate Counts/Cohort Sizes)
The 2019 results also show that the APS rate lags behind the state graduation rate of 82.0% by 4.1 percentage points.
"APS continues to show progress, with our 2019 graduation rate representing improvements since we first began our targeted focus on graduation in 2014," said APS Superintendent Dr. Meria Carstarphen. "While our rate declined slightly from our all-time high last year, we are encouraged that our efforts are continuing to yield results for kids and producing much stronger outcomes than just five years ago. There is no question, however, that there is much more work to be done to ensure that all students are on the path to graduation."
Of the 17 schools receiving 2019 graduation rates, eight achieved percentage-point gains compared to 2018. The largest increase was at Coretta Scott King Young Women's Leadership Academy, which achieved a 6.5-percentage-point gain and a 100% graduation rate. Other schools achieving gains include Forrest Hill (+4.7), Carver STEAM (+3.1), South Atlanta High (+3.0), B.E.S.T. Academy (+2.4), Crim High (+2.3), Carver Early College (+0.9) and Therrell High (+0.6). See Figure 2.
Figure 2: 2019 APS Graduation Rates and Change from 2018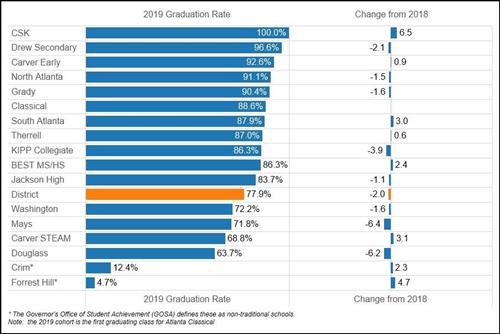 In addition, five schools had graduation rates greater than 90 percent: Coretta Scott King Young Women's Leadership Academy (100%), Drew Secondary (96.6%), Carver Early College (92.6%), North Atlanta High (91.1%) and Grady High (90.4%).
"Over the past five years, we have focused extensive efforts on strengthening our academic program to ensure that every single one of our graduates has met the standards for a diploma for the State of Georgia and APS," Carstarphen said. "With that focus on rigor, the good news is that a quality APS diploma means more than it did even five years ago, as demonstrated by our recent 2019 Milestones results that reflect our highest proficiency rates ever in all eight End of Course assessments. While some schools have seen a decline in graduation rates, we expect those percentages to rebound with our unrelenting emphasis on graduating every child ready for college and career."
With the district's focus on rigor and turnaround strategy, APS has launched a series of interventions to guide more and more students to graduation. This year, APS launched the Phoenix Academy as part of restructuring the district's non-traditional schools and programs. That program, along with Atlanta Virtual Academy, provides students an alternative path to a high school diploma that includes credit recovery, intense wraparound supports and alternative scheduling models designed to meet students' personalized academic needs.
The district has added other options to keep students in school by offering classes that are relevant to a future career. This includes Phase Two of the Atlanta College and Career Academy, which will move into a refurbished building in SY2020 with required infrastructure to support 14 new career pathways, including engineering, aviation maintenance, culinary arts, early childhood education and automotive technology.
For more information on APS' 2019 graduation data, visit https://apsinsights.org/blog.
# # #
Adjusted Cohort Graduation Rate
Georgia has calculated an adjusted cohort graduation rate as required by federal law since 2012, and this calculation has not changed over this period. APS only reports the official state graduation rate. The four-year adjusted cohort graduation rate is the number of students who graduate in four years with a regular high school diploma divided by the number of students who form the adjusted cohort for the graduating class. From the beginning of ninth grade, students who are entering that grade for the first time form a cohort that is subsequently "adjusted" by adding any students who transfer into the cohort during the next four years and subtracting any students who transfer out.
About Atlanta Public Schools
Atlanta Public Schools is one of the largest school districts in the state of Georgia, serving approximately 52,000 students across 87 schools. The District is organized into nine K-12 clusters with 58 neighborhood schools, six partner schools, 18 charter schools, two citywide single-gender academies and three alternative programs. For more information, visit www.atlantapublicschools.us, follow us on Facebook at https://www.facebook.com/AtlantaPublicSchools/ and on Twitter and Instagram @apsupdate.