2.2 Atlanta Public Schools Weekly News Tip Sheet (Week of February 1, 2021)
ATLANTA PUBLIC SCHOOLS
Office of Communications and Public Engagement
130 Trinity Avenue SW | Atlanta, Georgia 30303
Ian Smith, Executive Director
404-802-2855, office
404-603-6934, cell
ian.smith@atlanta.k12.ga.us
Seth Coleman, Media Relations Manager
404-802-2891, office
404-406-5570, cell
seth.coleman@atlanta.k12.ga.us
FOR IMMEDIATE RELEASE
February 2, 2021
Atlanta Public Schools Weekly News Tip Sheet (February 1 - 6)
Editors/Producers/Reporters: The following is a list of events, programs, accomplishments and/or initiatives occurring in Atlanta Public Schools (APS) this week. Please use it as a guide as you develop your coverage plans.
Members of the media are invited to attend all events on the Weekly APS News Tip Sheet. If you have an interest in these stories, please contact Seth Coleman, Media Relations Manager. Thank you for your interest in Atlanta Public Schools!
APS Provides Comprehensive COVID-19 Testing Strategy for Students and Staff
In an effort to mitigate COVID-19 in our schools and community, Atlanta Public Schools (APS) has adopted a Comprehensive COVID-19 Testing Strategy in collaboration with public health officials, community partners, universities, and healthcare organizations.
This strategy works with our school-based health clinics and community resources to provide testing for the following groups:
Students, teachers, and staff with symptoms identified through the health screening protocols

Students, teachers, and staff who have had contact with someone with COVID-19 in the school or workplace

All students, faculty, and staff with possible exposure in the context of outbreak settings

PLUS surveillance testing for individuals who are asymptomatic
COVID-19 Surveillance Testing
APS is continuing its effort to keep everyone in our schools and buildings safe by making COVID-19 Surveillance Testing available to all students and staff. COVID-19 Surveillance Testing is a non-diagnostic test that detects the presence of COVID-19 even in individuals who may be asymptomatic. The benefits of surveillance testing include allowing APS to test, receive test results (within 24 hours) and notify individuals of a clinically significant reading before coming to school or work.
While participation in surveillance testing is not required for students, it will be strongly encouraged. The success of this mitigation strategy, and the District's ability to return and keep students in school, is based on high levels of staff and student participation. APS is exploring all options as it relates to the administration of surveillance testing for staff and will be providing staff training, information sessions, and other staff engagement opportunities as part of this process. Learn more by reviewing our frequently asked questions.
APS School-Based Health Clinics
As part of our testing strategy, we have developed cluster-based testing options at our health clinics (Jackson, South Atlanta, Washington, and Mays) for students and staff at the following school-based locations and times:
Dobbs Elementary - 2025 Jonesboro Rd SE, 404-341-6686
Testing open to APS Students/Staff/Community
M - F | 8am - 5pm | No appointment required
Hollis Innovation Academy - 225 Griffin St. NW, 404-481-3794
Testing open to all APS Students/Siblings/Staff/Parents
T, Th, F | 8am - 3pm | No Appointment required
King Middle - 545 Hill St. SE, 404-373-6614
Testing open to APS Students/Staff
T, Th | 8am - 5pm | Appointment required
Miles Elementary - 4215 Bakers Ferry Rd. SW, 678-791-1165
Testing open to APS Staff/Siblings/Staff/Parents
Monday | 8am - 3pm | No Appointment required
Toomer Elementary - 65 Rogers St. NE, 404-373-6614
Testing open to APS Students/Staff
T, Th | 8am - 5pm | Appointment required
COMING SOON
APS COVID-19 Drive-Up & Walk-Up Testing at Douglass HS
In Partnership with Children's Healthcare of Atlanta and Emory University
Open to ALL Students, Staff and Families
Launching: February 22, 2021
On-Site Testing Options (at home, school and work)
In Partnership with CORE Response: Community Organized Relief Effort
Open to ALL Students and Staff
Launching: February 15, 2021
----------
Sutton Middle School Student Chosen
to Lead Girls Empowering Movement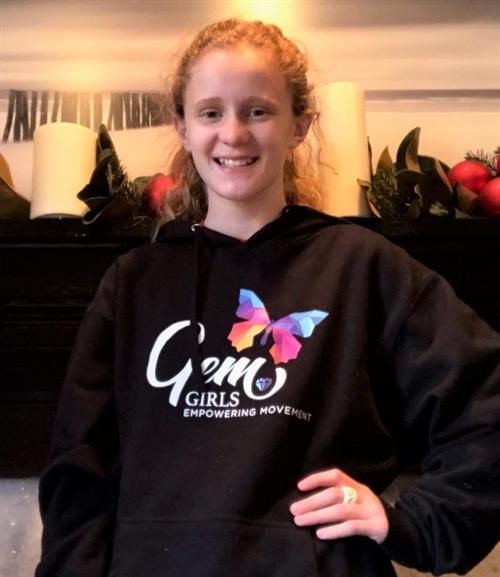 Ella Sipe, an eighth grader at Sutton Middle School, has been selected by HealthMPowers and Girl Scouts of Greater Atlanta as a student leader for the new Girls Empowering Movement Program (GEM). Sponsored by The Atlanta Falcons Youth Foundation, GEM is a five-year statewide initiative to improve middle school girls' physical activity.
Ella is one of only 14 middle school girls from across the state selected to serve on the GEM Leadership Team. The girls have been working closely with HealthMPowers staff during the design phase of the program and collectively decided on the name GEM because they felt it represented the strength, value and confidence they hope to inspire in their peers. The Team also announced the project in a video and provided direction in creating the GEM logo.
Spurred by Georgia FitnessGram® data that shows a sharp decline in girls' aerobic capacity from 51 percent in 5th grade to only 31 percent in 12th grade and a gender disparity in fitness levels among middle school girls and boys, the program will empower and engage 18,000 girls from 120 sites across Georgia. The GEM program will be implemented in schools, Girl Scout Troops, and Boys and Girls Clubs starting in the fall of 2021.
The Girls Empowering Movement is a collaborative initiative led by HealthMPowers in partnership with: Boys and Girls Clubs of Georgia, Girl Scouts of Greater Atlanta, Girl Scouts of Historic Georgia, and Wolf Wellness Lab at the University of West Georgia. The organizations are working together to ensure that the girls' voice drives all program elements and keeps them at the forefront.
"GEM is different because the entire program is designed and led by actual middle school girls from across the state, not just adults," Ella said. "We know firsthand what it's like to be a middle school girl in this busy and stressful generation, therefore we can provide the best plans and ideas."
For more information about the Girls Empowering Movement (GEM) program, visit HealthMPowers.org/GEM.

----------
###
About Atlanta Public Schools
Atlanta Public Schools is one of the largest school districts in the state of Georgia, serving approximately 51,000 students across 87 schools and five programs. The District is organized into nine K-12 clusters with 64 traditional schools, 19 charter schools, six partner schools, two alternative schools and five alternative programs. To learn more about Atlanta Public Schools, follow us on social media – Twitter (@apsupdate), Facebook (Atlanta Public Schools), and Instagram (apsupdate) – or visit us online at www.atlantapublicschools.us.