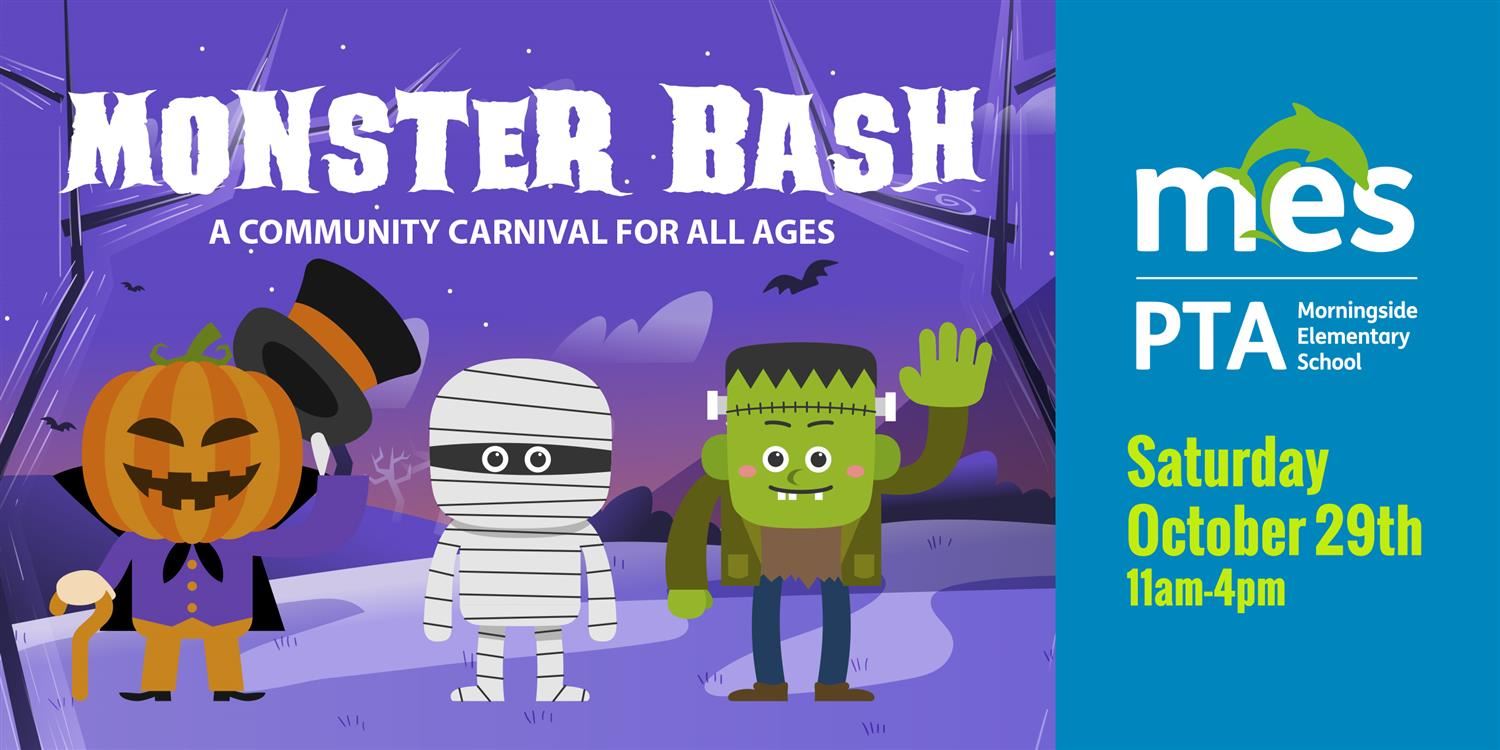 2022 MES MONSTER BASH!

When: Saturday, October 29th from 11:00am to 4:00pm

Where: Morningside at Inman Fields: 774 Virginia Ave NE, Atlanta, GA 30306

We know this will be a wonderful event that so many in our community are excited to attend. There are decorated pumpkins to be auctioned, delicious treats in the bake sale, and a Haunted Swamp to explore - if you dare! Delicious food trucks will keep us nourished, plus all the tricks and treats of the carnival! We can't wait to see you!

---

What is the Morningside 'Monster Base'?

Since 1980, the Morningside PTA has hosted a Halloween Carnival each fall, open to our wonderful community.

Our students and children from all parts of our community look forward to this event all year. They love to spend the day at Morningside playing with their friends, showing off their costumes and getting in the spirit of the season! Families enjoy games, rides, food, a delicious bake sale, the spectacular haunted house-made by our very own 5th graders and much, much more. Important information relating to general admission wristbands, the bake sale, pumpkin decorating auction, 5th grade Haunted Swamp, and volunteer needs and more are located below.

---

Wristbands are on sale now!

Entrance to the Monster Bash is free. For unlimited access to Monster Bash games and rides, General Admission Wristbands can be purchased for children ages 4 and up. Wristbands also include five tear-off tabs that can be used for popcorn, cotton candy, a haunted house trip, and other spooky and fun surprises. Kids three and under are free and do not require a wristband for activities.

Prepay for your wristbands at the MES Online Store at a discount price, or purchase them full price the day of the Monster Bash at the wristband sales desk/entrance.

Pricing for General Admission Wristbands:

Presale: $20 (ends Thursday, October 27th at 5pm) (Credit / Debit only)

Day-of: $25 (Credit / Debit preferred)

Other activities separate from wristbands:

Painted Pumpkin Auction, Bake Sale, Food trucks, Drinks: Cash or Credit / Debit

Please note: In person wristband purchasing and MES Online Store wristband pickup will be available on:

Sunday, October 23rd, Noon - 2:30: Drive through at the MES at Inman Circle Drive

Wednesday, October 26th 7:15 - 8am: Pick up near walker pad

Saturday, October 29th: During event hours at the wristband table/entrance.

---

Volunteers

An event full of this much fun is dependent on volunteers to ensure the event is a success!

Sign Up and get involved. We are grateful for any and all the support you can provide in the week leading up to the event and on the day. Please contact Stephanie Mayfield, Volunteer Coordinator with questions.

---

Fifth Grade Haunted House

Don't miss the super spooky, "Fifth Grade Haunted House ". This well-loved tradition is a fan favorite.

We need your help bringing the Haunted House to life. To lend a hand or donate an item for the event, please sign up for a Haunted House volunteer slot.

Is your 5th grader ready?! Does your student want to be IN the Haunted House? Wait no longer! Here is the 5th grade student sign-up. We need actors, ticket takers and tour guides all day at the Monster Bash, working in shifts of just 75 minutes. Please contact Jonathan Low for more information.


---

Annual Bake Sale

Sign up to donate baked goods (homemade or purchased) for the bake sale. We welcome cakes, cookies, bars, candy or anything else sweet! Please keep in mind there will be no refrigeration available and we'd love vegan and gluten-free options as well. Proceeds will benefit our very own Dolphins Do Good initiative.

Please email Bake Sale Team Lead, Ashley Kurzweil.

---

Monster Bash Pumpkin Decorating and Auction

Calling all artists or crafters! We need your help to make pumpkins for our annual MES monster bash pumpkin auction. If you'd like to participate, just paint a plastic (ever lasting) pumpkin by October 20th.

If you have questions or need help getting a pumpkin, contact Heather Low. Proceeds will benefit the media center and art department.